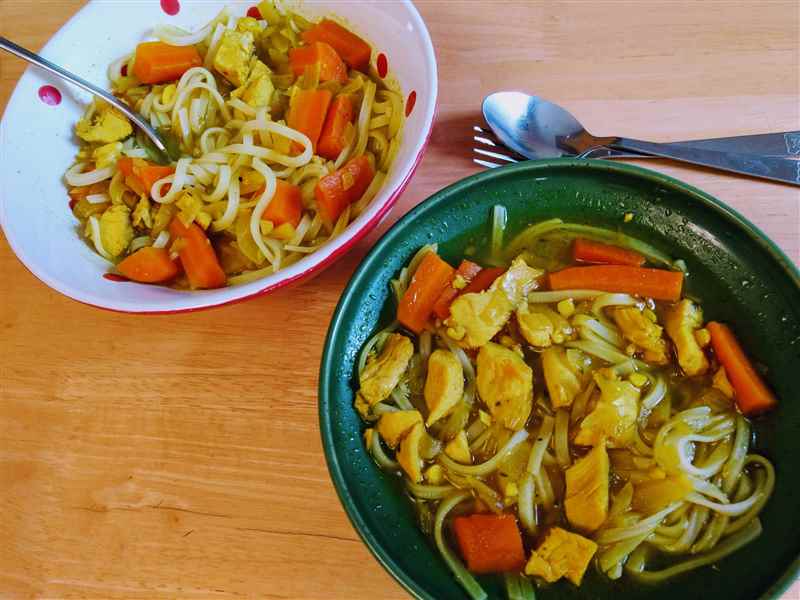 This is my take on a childhood favourite. An easy, healthy one pot meal to help ward off winter bugs, boosting the immune system with a potent dose of antioxidants and anti inflammatories from garlic, turmeric and curry spices. I've added some seaweed to increase iodine and trace mineral content also, this is optional however!
Ingredients:
 2 tblsp Avocado or coconut oil
1 large onion finely chopped
5-6 garlic cloves, crushed and finely chopped (yes, I use waaay more garlic than most   recipes ever recommend!)
2-3 carrots chopped
1 tsp turmeric powder
1/4 tsp cracked black pepper
1 tsp coriander powder
1 tsp curry powder (mild is best if its intended for kids!)
1-1.5 ltr boiled water
3-4 tsp gluten free veg stock powder (I use low salt marigold bouillion powder)
1 gluten free chicken stock cube (I used kallo)
1-2 strips of dried kombu seaweed (optional, but worth it, so why not?)
some leftover/cooked roast chicken, chopped into cubes.
A pack of dried rice noodles.
Method:
On a medium heat, warm the oil in a large saucepan. Add the chopped onion and sweat to soften with the lid on for a couple of minutes, before adding the garlic, then the carrots (you can add other chopped veg here too like celery, broccoli or peppers) stir and allow to soften with the lid on for a couple of minutes.
Add the spices and stir well to combine for a minute before adding the water. Add in the veg and chicken stock and mix well. Pop in the seaweed strips now if using. You can remove it before serving. Add the chicken pieces and allow everything to simmer together until the veg is tender.
When the soup is nearly ready, cook the noodles according to the pack. Put the cooked noodles in bowls and ladle the chicken veg soup/broth on top. Happy comfort eating!
Note* you can adjust the spice and garlic amounts depending on the potency of your spices and taste. Just add more hot water if it is too spicy for children.